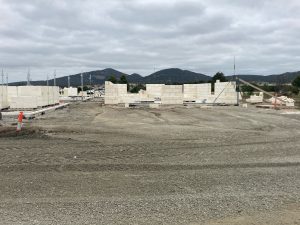 NEW BUILD – Little River
We've been working on a beautiful project next to the magnificent You Yang mountain ranges. This property is located in Little River, and we are using Bruhn SA Limestone for the construction of the house.
This property is being built using double-skin limestone walling. This means that there won't be any plaster walling on the inside of the house, creating a sense of raw warmth. The inside and outside walling will all be constructed in limestone to create this sense of cohesion and balance.
The overall construction of this property will give it a warm and earthy feeling, especially when combined with the exposed timber roofing beams. Set against the majestic You Yang ranges, this will be a real showpiece of natural materials. We can't wait to show you the final result!